happy halloween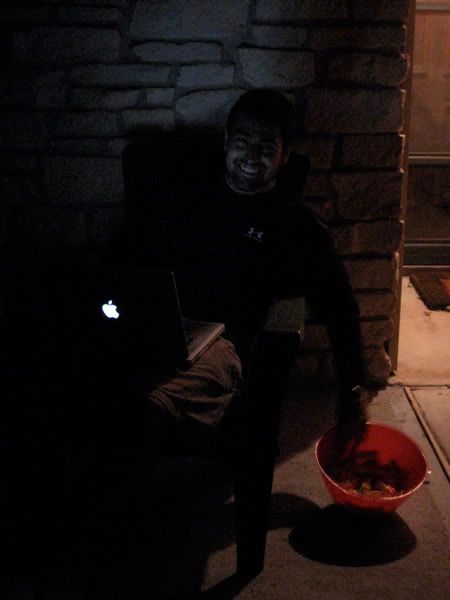 Its Halloween tonight and I come to you live from my front porch. We didn't want the doorbell ringing all night with the baby and all, so i'm christening the front porch by myself as theresa gets akello ready for his night time routine.
I am fully camped out. I have my jar of peanuts, rum and coke, cigar and bowl of candy.
Oh and the laptop of course. Which kinda' lights up my face for people walking on the street. I'm thinking this should be a tradition from now on. Party on the patio. But next year I will do it all ghetto style with a grill going on in the front yard and all.
I got to say, the kid's conduct is a lot better this year. But maybe that's because there are more parents with their kids this year, OMG, I just had two teenage girls walk up dressed in their soccer uniforms! Like they must be 16 or something. I think they were just bored or something.
Anyway. So i'm so excited! My sister is starting a business called
sugar and spice
! She makes custom baked goods and the what not. I can't recommend her yet because I have not sampled the wares, but I do know that everything she cooks has
manteca
in it and is delicious! So i'm sure her treats are no different! Anyway, that's not why I'm excited, I'm excited because in talking with her the other day about her new business, I was sure to make sure that she had bought her domain name and all.
Gina: "duh"
GIL: "just checking"
Now the 10 year old gil would have gone out and bought sugarandspice.com and then sold it to her. But I have since married Theresa and am not the boy I used to be.
Gil: " well what about a website?"
Gina: "I don't have time or money to deal with that right now. Besides I can post pics on blogger and in fact, blogger can do everything a website can do…and its free.
Gil: "well if you own sugarandspice.com you should set it up to where when people go to the site, it relays to your blogger address. Because putting the entire blogger address on a business card is tacky and unprofessional."
So while I'm talking to her I'm thinking.."hello! like www.modernmontessoriaesthetic.blogspot.com/ is easy to remember! And I own akellogarcia.com! duh!
So I'm excited to say that going forward you can now access the blog by simply typing www.akellogarcia.com . How cool is that!
hmmm...maybe i should buy manteca&spice.com.
That will make it much easier for when I make his calling cards. He's gonna be making play-dates soon and will need a card. Complete with website address, email and cell phone. Hmmm I might wait on the cell phone and just put our home phone since he can't talk all that well yet.
It so funny, I see a lot of kids, like one or two year olds, playing with their parents cell phones, pretending to be talking on them. In the store this past weekend, I saw a kid in a stroller who could barely talk …but he had a cell phone in his hand.
Kid: "gramah!.....gramah!! Can you hear me now?!!"
I'm serious. He was on the phone. Even moving in the stroller in order to get better reception. It was hilarious. Then he passed it to his mom
Kid: "I cant hear grammah!"
And his mom took the phone and just strolled along, talking to grammah.
Ok, back to akello.
Man he's getting heavy; he must weigh 14lbs or something. It's always great to hold him but it's getting harder, and he's only 9 weeks old!
Theresa has been staying busy, taking him on outings and to classes. She has a few mommy groups that she has signed up with that have provided great support and adult companionship.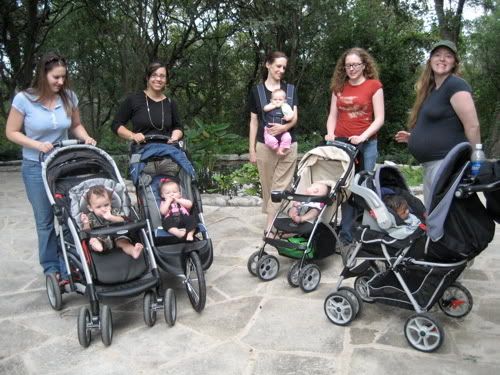 This Sunday she took him to his first Party! A Halloween party hosted by natascha and tony. He went as a chili pepper!
They set up this awesome little set so that all the kids could have a photo taken, and then they printed out the photos on the spot and made frames for them!
How cool! It's the first thing worthy of gracing the front of our fridge.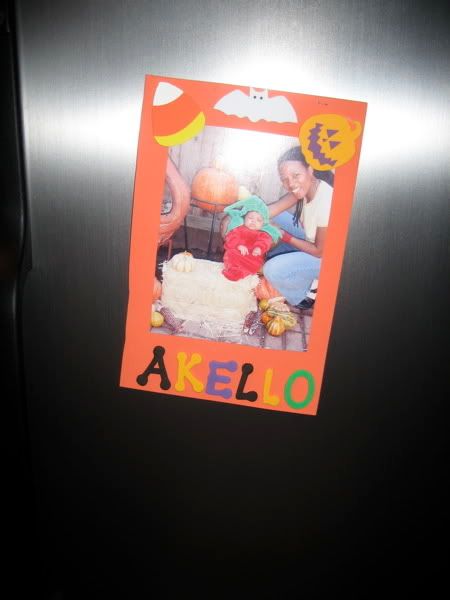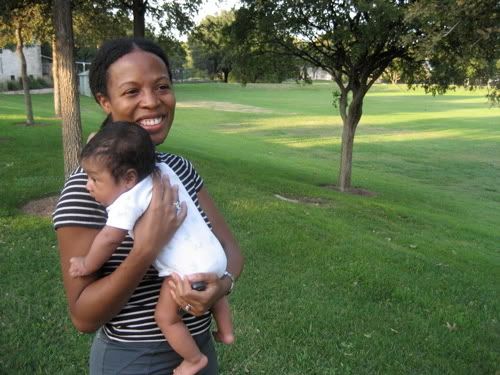 Today we went to Katherine Fleischer Park. This park rocks. Its up on wells branch parkway which is just a little bit further north than us and takes about 5 mins to get to.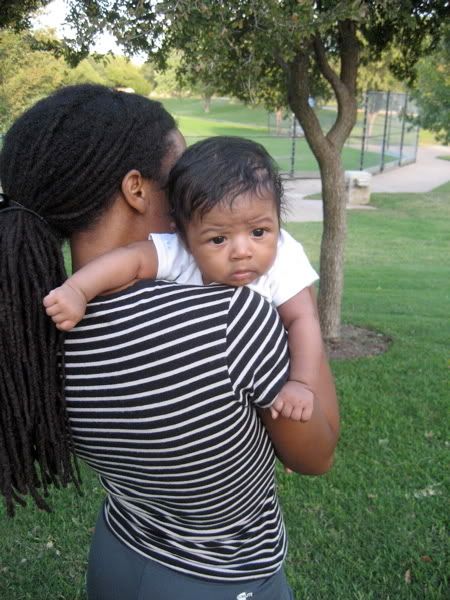 I ran along the trails and Theresa and akello walked. It's an awesome park complete with swimming pool, playscape, soccer and baseball field and tennis courts.
I had no idea it existed until T told me about it. No more driving to Town Lake for a run that's for sure.
Check out these little shoes! shoes are the cutest! whats funny is that they have no use whatsover except to look cute.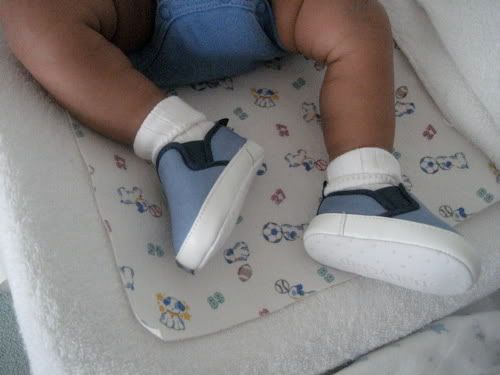 thanks Maria!
We made great progress today with tummy time! we are doing it a lot more agressively since hitting the two month stage. Today he really stayed up for a while, and started flipping himself over. it was so fun for us.
Today we went to see our financial advisor to set up a college fund for akello. We took all the money that was given to us after his birth to get him started, so take heart in the fact that your money will one day buy him a semester at school!. For Christmas we are asking that all gifts take the form of money for the first couple of years so that we can put it into the college fund. Thank You and goodnight!