Day 4. The floor bed.
Hello!
Well no work on the nursery today, but I did receive an email from Lord Company saying that the floor bed that I ordered had begun to process and that I should expect it in 3-5 weeks. It took me forever to find a floor bed that I could order online but i finally found it.
you can get one here. http://www.lordequip.com/
Now the floor bed was my first introduction into the Montessori Aesthetic.
I had picked out the crib and all that business and I was showing my selections to my wife and she's all, "We are not putting our baby in a cage."
I started telling people that we were not using a crib and they thought i was crazy! Most expireanced parents will tell me, "that sounds great and all, but trust me, you are going to want that "cage" later. Here's the whole deal with the floor bed and the montessori method. And I'm copying this from a site, as you can probably tell by the grammer.
Reprinted from:
The Joyful Child, Essential Montessori for Birth to Three
ISBN: 1-879264-12-9
THE FIRST YEAR - RESPECT FOR UNIQUE DEVELOPMENT, THE CHILD'S SELF-RESPECT
Preparing the Home to Welcome the Newborn
As you go through the process of preparing baby's room before birth, lie down on the floor in the middle of the room and look around, listen. Will it be safe? interesting? beautiful? calming? Will it allow for as much freedom of movement possible?
Because of the young child's strong sense of order it is ideal if the room can stay the same for the first year. Thus it is very important to put a lot of thought into just how to arrange this first environment.
One day as I was watching the joyful, exuberant actions of a new kitten in our house, I couldn't help comparing it to the curiosity and needs of the young child. The kitten tested itself against the challenges of moving in every possible way around the living room, carefully examining each object and the best way for its body to move over, under, and around it. I was reminded of watching babies when they are allowed to move freely in a prepared environment.
Imagine how the natural development of kittens would be affected if they were confined to such things as kitten cribs with covers, kitten slings, swings, walkers, and pacifiers. I am continually thinking about how we can help babies to explore with their bodies and to develop grace and confidence in movement. The newborn has a lot of important developmental work to do, and we can help this work by providing the most naturally supportive environment.
While in the womb a child has already been exercising muscles and listening to sounds. After birth she will gradually learn to move on her own and to explore, with every sensory and motor ability at her command. She will study the room in detail with her eyes and listen carefully to every single sound with her ears. After strengthening arms and legs with baby push-ups, she will head for objects to explore further.
Every child follows a unique timetable of learning to crawl to those things he has been looking at, so that he may finally handle them. This visual, followed by tactile, exploration is very important for many aspects of human development. If we provide a floor bed or mattress on the floor in a completely safe room—rather than a crib or playpen with bars—the child has a clear view of the surroundings and freedom to explore.
A bed should be one which the baby can get in and out of on his own as soon as he is ready to crawl. The first choice is an adult twin bed mattress on the floor. Besides being an aid to development, this arrangement does a lot to prevent the common problem of crying because of boredom or exhaustion.
It helps to think of this as a whole-room playpen with a baby gate at the doorway and to examine every nook and cranny for interest and safety. If the newborn is going to share a room with parents or siblings we can still provide a large, safe, and interesting environment.
Eventually he will explore the whole room with a gate at the door and then gradually move out into the baby-proofed and baby-interesting remainder of the house.
These are the beginning stages of independence, concentration, movement, self-esteem, decision-making, and balanced, healthful development of body, mind, and spirit.
Okay!
And then my friend Tony the Woodworker calls and says that as a gift, hes going to make me said floor bed!
DANG! but thats OK! Since the floor bed is on the way, He is going to make the shelving unit that I was going to buy from Ikea out of SOLID MAPLE YO!
I highly recommend Tony for all your woodworking needs. view his blog here,
http://woodblog.tjromero.com/
I was too tired yesterday but i did want to mention that Theresas School threw a baby shower for us on Wednesday. It was a real treat! We got lots of generous gifts and a lot of great Books that I cant wait to put on the shelf that Tony builds for us. Theresas Team did an awesome job decorating the room and making it a very festive and receptive library where we had the shower. Theresa and I were very thankful for the amount of effort and love that went into the planning and execution of the celebration. Here are some pics of the event.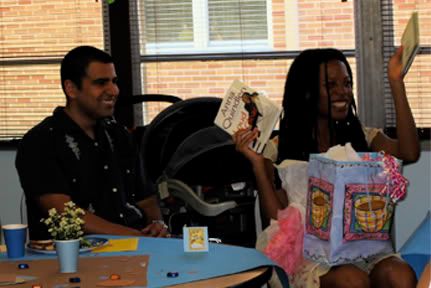 Books! Check em out!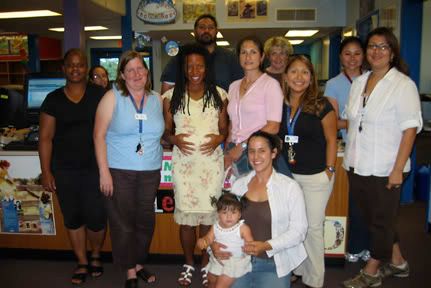 Thanks Anne for taking the pics!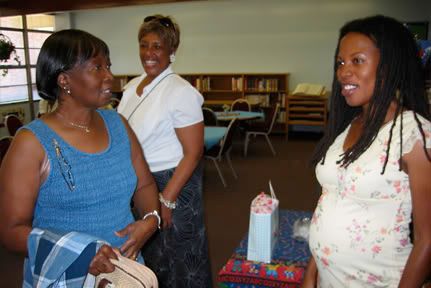 Theresa's Mom Pearl on the left, T's Aunt Alice in the Middle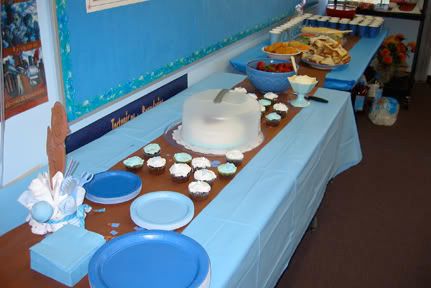 Big Thanks to Kathryn and Natacha for the cake and extra effort!