Day 12. THE MURAL
I am very excited!
Bonnie Gammill has agreed to do the mural for the nursery! Bonnie is an awesome local artist that specializes in mixed media painting and textile design. We have already purchased one of her pieces that is currently the only piece of artwork in our bedroom. Its oil on plexiglass with the image relief that's done via exacto knife!
She will be doing it on July 15th and 16th. This got me thinking. I should wait to order the Flor tiles b/c I want to put those down after all the painting is done, But then I thought, maybe I should put the floor down first. This will give me a better sense of the colors in the room, and make it easier to pick a paint color for the mural.
I am still wanting to do a tree. Both Bonnie and I are going to look for a cool tree to do.
Her work is currently on display at Women and their work Gallery
http://www.womenandtheirwork.org/
check out all of Bonnie's work here:
http://www.bonniegammill.com
I looove the carscapes that se does. She goes around taking pictures from her car and then goes and paints them. Like landscapes, but from the drivers perspective. very original and very cool.
Oh and if you need a framer, I HIGHLY recommend Corrine Patch! She did the walnut frame on Bonnie's piece with a silver leaf finish. She has a very good eye for minimal aesthetics and she does high quality work at a very good price.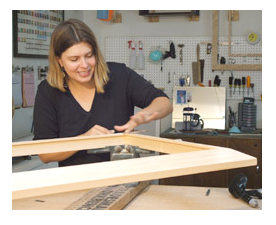 More on Corinne here ------ http://www.silverleafframing.com/
Oh and get this! I just found out that Our store has to move out most of the kids items to make room for more product, so we are selling all the kids stuff at 33% off, off the floor! dont pay shipping! I think I might pick up a few things...we shall see!