Day 19. hmm.. rockin' chair no worky
Lets start with Michelle Anderson.
Michelle is Theresa's old roomate before i took her from her. Ha! that's kinda funny. I guess theresa and I are roomates now. we should rent out the other rooms so we can live for free! anyway, i digress. So Michelle is a new mom with a one year old boy and came to visit us last week from Albercerque. She has already given Theresa all of her maternity clothes, but brought more with her and other baby clothes and essentials that she doesn't need anymore. She also brought us this adorable gift!
I can't wait to dress baby up in this! look at that adorable little hat!
Its really soft too! made by http://www.wendybellissimo.com available at B'R'US.
It's pretty funny, we will not be buying ANY baby or maternity clothes. between Michelle's hand me downs to all of the gifts that people have given, baby has a wardrobe that would make any hollywood celeb envyious!
So while Michelle was here she was breaking it down for Theresa, telling her that the RAWR rocker won't do! and that the Rex rocker won't cut it either! But Michelle put it in a way that I guess I hadn't really heard from anyone. "you will be in this chair all the time. not just to rock, but to live, to nurse and to fall asleep in. you need to be able to fall asleep in the chair"
-gil glances down at Rawr Rocker and squints, knowing (and happy) that he will have to buy something new-
Wow, well what do you say to that? I didnt realize that you needed a "chair" to sleep in. I just figured you would sleep in the bed. but what do i know besides what looks cool. So this got me thinking. "hmmm, well....we still need Rawr! and Rex. but i guess we need something else too."
ugggg. I just loathe those big ol' lazyboys.
Now my freind Haley is a new mom of twin girls that she lovingly refers too as "the divas" and she spoke to this effect too. I guess it hadn't sunk in, but she was saying the same thing about how she went the Rawr! route too, and ultimatly succumbed to the big ol' rocker. but she found one that wasnt so bad, from ... I think modernseed.com if I am not mistaken. I looooove her nursery and would like to share some of her pics.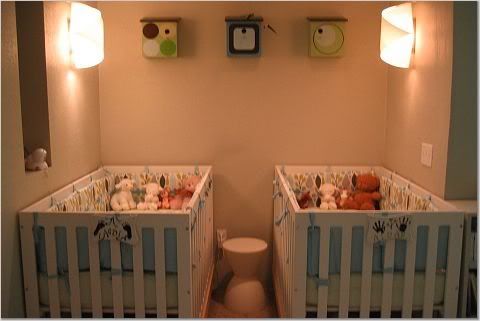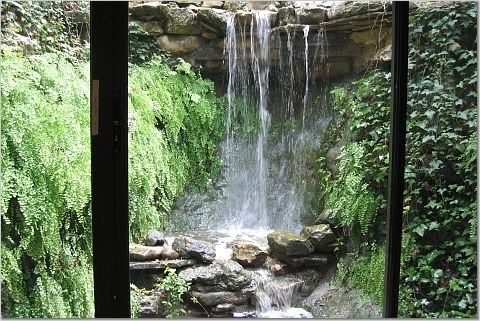 The nursery has this waterfall oppossite the room. I think this is as organic as you can get.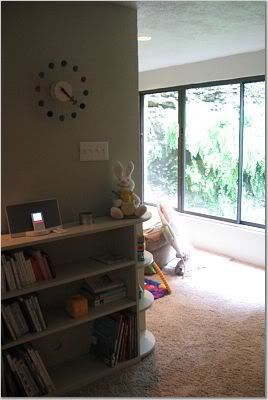 I wanted to use one of those clocks too, but Theresa wont let me. She says baby cant tell time! but im all, "for us" and she's all, "we dont need no $300 clock!" she used her black voice too, so i dropped it.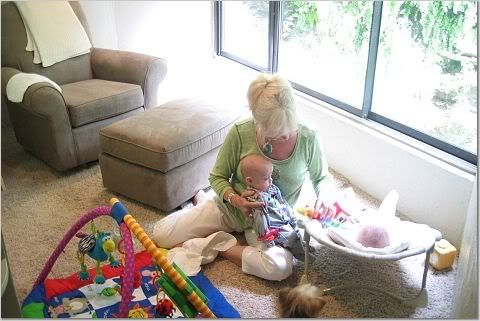 the glider that she finally succumbed too.
Now Theresa took Michelle shopping around while she was in town to the new 2nd street district where I work, because well, it was nothing but a couple of warehouses the last time Michelle was in town. They came to the store while I was working to say hi. and Theresa found a chair that she really liked that would solve our "dillema"
Michelle:
"its weird, you'll like it! but its comfortable too!"
Theresa:
"yeah ..weird but good weird."
Gil: and? where is this good weird chair you speak of?
Theresa found the chair at IF+D, A really cool store pretty close to mine that I usually go to for all of my last minute gift ideas b/c A. its two stores away. and B. all their gifts are reasonably priced and are great designs. thats the thing people. good design is good design. it suits everybody to a degree. The last time I was there, i bought this cool little camera that took four pictures in 2 frame steps and melded those four into one picture. I grabbed this image off the web. It'S called the LOMO!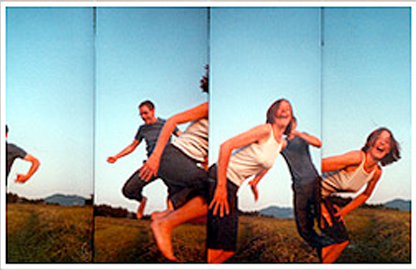 Now take this camera for instance, who wouldn't want this? it's cool. doesn't matter if you listen to mostly punk rock, dont have a car and are a student who lives in the basement of gregory gym on campus. Now if you went somewhere trying to find a gift for the above person with their demographic in mind you would have a much harder time! anyway. I will be going to IF+D to look at this chair tomorrow and will give a full report! I need to buy some mobils anyway and i know they sell them. is it mobils? or mobeels? i dunno.