Sunday Picture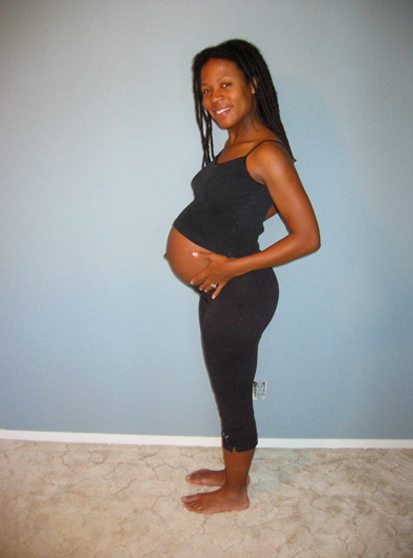 WEEK 34!
And now from the front!
In case i have not said previously, We tried to have the Cesarian scheduled for friday August 25 but they were booked so its going to be on Aug. 24 (thursday)
Now, back to the Mural saga!
So take a look at the picture below of this double sided 8 foot poster.
Might you be thinking what Im thinking?
Well I saw this poster about to be thrown away and was like, HOLD THE PHONE!
i could make the Tree Mural out of cutout pieces of wood grain from the poster!
Talk about keeping it real!
Now the other side of the poster is a seperate sheet. and its ALL woodgrain. No text or nothing. I think if im efficient, i can do it.
Now heres the next problem. The texture of the wall is sooo think that i dont think that i can just paste the pieces on to the wall directly. So what im going to do is go to
Miller Blue Print
to pick up some 8ft by 4ft pieces of
foam core
.
Im going to spray mount the posters to the foam core and then cut the pieces for the tree out with an exacto knife, then flush tack the pieces to the wall.
stay tuned!