Day 20. The new chair Dillema
Sooo,
sorry for no post last night, i was way too tired. Ok, so i went to IF+D to go check out this chair that theresa is talking about, and found a ton of other must haves in the process.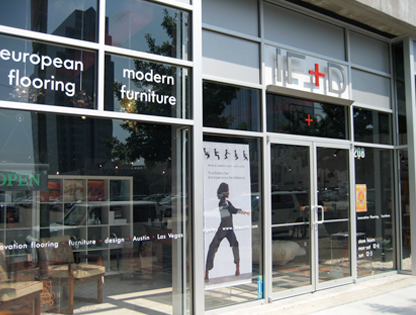 So i walk in and there it is, the chair, it's called the "PEEL" chair for obvious reasons. It's made by Stokke, a company that I'm pretty fond of. Check it!
I tried it out, it was very comfortable and relaxing. I must say that if felt like you were floating whenever you kicked back. it does recline and the head pad is adjustable. It retails for $2300. Now I wouldnt mind having this chair in the room and I would normally be quick to get one, but! I WORK AT A FURNITURE STORE!!
so if we have to lay down some dollars to pick up a chair, i would like to use my discount and get something else...that something else being this!
The Flight Recliner!!!
This is one serious relaxing machine. At first sight, it just seems like a simple club chair,
pero alas!!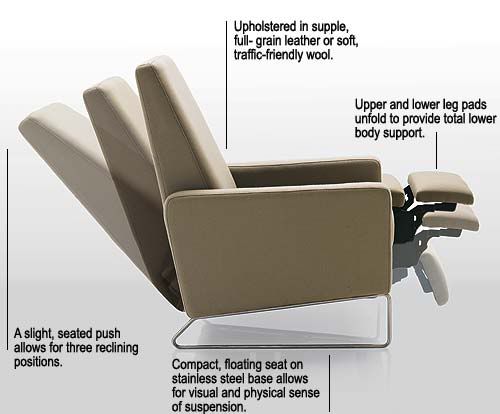 'tis also a recliner. it is very comf, and with my discount it would come to 1,833 and that includes shipping and handling. And get this! there is a contest going on at work that ends in two weeks with a prize being a $750 DWR gift certificate.
that would bring my total to $1083!
Now I have been dreaming of one of these for a while, and after it does its duty downstairs, it would move to the TV room.
Now there is also another scenario as well. I could try to pick up a used item since this chair is only needed temporarily. yess...but....
there is also another scenario that could play out. The most ideal of scenarios...There is also another seperate contest going on at work....
A contest to win this!
An Eames Lounge Chair and Ottoman in Santos Palisander Finish with Black Leather!!!!
Every time i say it, i feel like Ralphy from that classic xmas movie "the christmas story" But seriously, this would be awesome. the contest ends July 1 so i will wait to see if I can win it, and if not, but I can still manage to win the $750, i will get the flight recliner...(pending theresas sit test). If i dont win anything, i thing i might just get something used.
Ok, now while i was there at IF+D i picked up a must have for the nursery!
I mean, what nursery would be complete without a hand grenade lamp!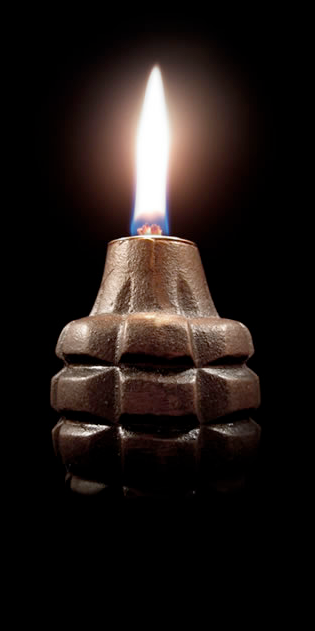 this will make the perfect night lite! Ha! just kidding mom, put down the phone! I did get one though, but NOT for the nursery.
They make them in gold, chrome, and "classic green" I bought a green one, gotta keep it real.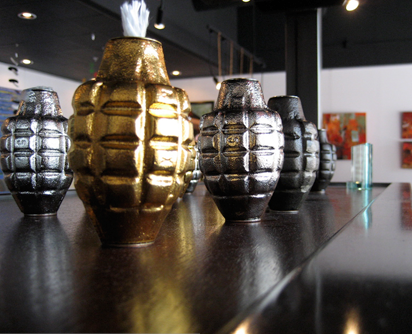 I also ordered some mobils! IF+D carries the complete collection of Flensted Mobils.
Flenstead pretty much makes all of the mobils that you see on all the websites that cater to modern babys. err parents i should say.
Theresa said its good to change them out ever so often and then move onto some mobils that baby can touch and play with down the road.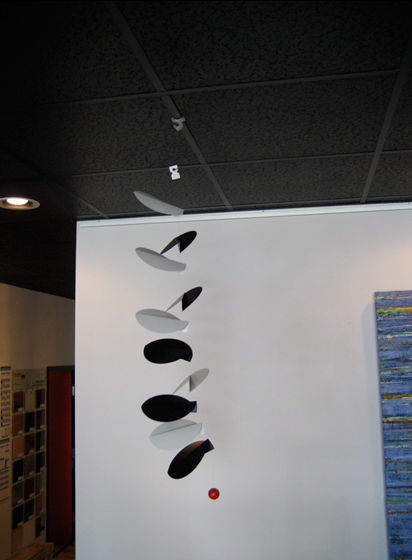 I bought this one, and ordered two others.
one with swallows and one that was abstract. Now there are a ton of others that are cute as well, but they dont keep it real. Like, even we sell a mobil with adorable little sheep on it, but thats only gonna confuse the baby. Sheep dont fly! now im being hypercritical, but i like the idea of either abstracts or birds only. I dont think thats a montessori thing though, just a G thang. (gil thing).
and now the sunday picture!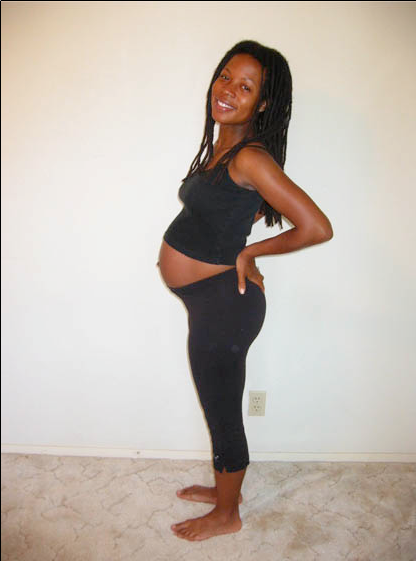 week 28!
So as some of you know, we are looking for a new car to replace theresas car. Theresas car makes a new noise every day and we want something reliable with the baby on the way and all. Now were not going to buy a new car. that just doesnt make sense to us, even if we were rich and could pay in cash, well ok, maybe if i was that rich it wouldnt matter, but for now it seems silly to us. We almost bought a new car around xmas but changed our minds at the last minute and whew! were we glad we did.
So this is theresas car and all, so im pretty much staying out of it. All ive got to say is that it better be a toyota or a honda. So theresa has been looking at cars and changing her mind the way i re-arrange the furniture, but finally she signed up with consumer reports, (probably after talking with her parents) and did a lot of researching. So "today" she wants the 2002 Honda CRV! yay! I am excited! i think it would be the perfect vehicle for us.
so now we are just going to try to find one. 2002 was the stellar year (according to CR).
sO my camera that i just bought is pretty cool, very compact, sometimes i can't tell if i have my phone or my camera in my pocket. Last night i tried using it on my freinds kid. I would pretend that he was my kid, and would practice "the quick draw" on him,
Tony's kid Isaac is as fast as they come, and i liked the way the camera handled.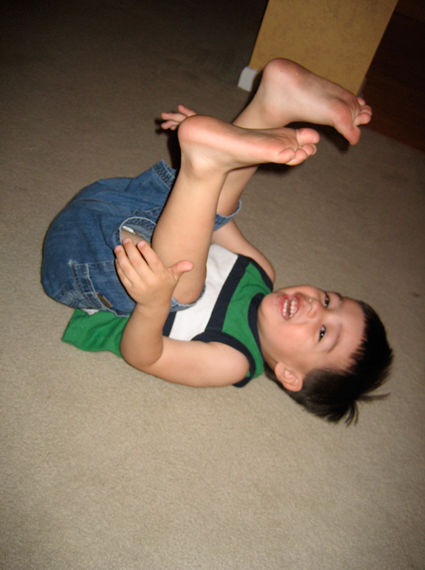 Earlier in the day I
practiced using the video camera mode on my co-worker. I have never posted video to this blog, but i want to in the future for when baby comes around so this will be a good test. let me know how it looks on your end. i dont think it works with sound.
And finally, i want to end with the battle of the EAMES hang-it-all.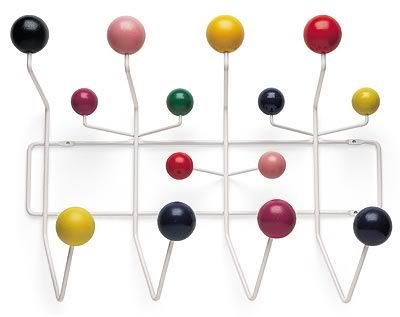 Now i want to put this in the nuresery, i think its perfect. Theresa says that its not necessary. Wouldnt yall agree that it would be perfect for diaper bags and toys and well anything really? the colors are cool and its made of wood, and circles? how could this not be a good thing? today i fought back with proposing this instead.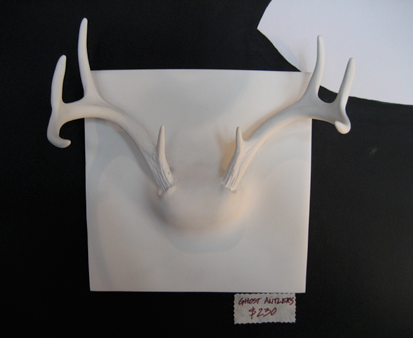 The Ghost Antlers! how bout that? The people at IF+D said that if we bought the peeL chair,
theyll throw in some antlers! for free! otherwise they're $230! we will see how this one plays out.
until next time!