Day 23. new stuff
Today the floor bed arrived! It looks very nice and is well built. After a long day at work, i still had enough energy to zoom back out to BABYSRUS to pick up some bedding for the mattress, so i could see it all good to go. Theresa had no doubts where I was when she came home from her walk to see the mattress in the floor bed arranged in the nursery.
While I was there i noticed the rockers' showroom! I rolled my eyes and ran the other way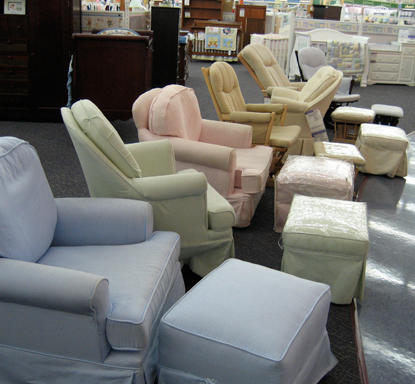 I just dont see one of these in my house.
LOTS of new stuff has been going on. too much to talk about. And work has been very taxing the last couple of days wich has left me with no mental capacity for blogging, but i don't want to fall behind! so here is a tid bit.
So lets start with this diaper business. Never has any posting commanded so many responses! The best response i heard was from Bruce. He told me about an amazing concept! are you ready for this!
A DIAPER SERVICE!
thats right! Dy-Dee Diaper Service will come by your home twice a week to pickup the old ones and drop off the new ones! bruce told me that they give you a cheap plastic canister with disenfectant disks of some sort to put in there, and you just put it out on your front step just like trash day and they will come and pick it up.
As far as cost, he said back in his day it was like 15$ a month, but that was during the Reagan administration, so who knows how much it is now. but I have already made a line item for it in the budget.
Speaking of trash, we have to order the bigger trashcan. right now we use the small green one. time to upgrade to the bigger gray one. Also, since the Dy-Dee Diaper Service provides a cheap plastic generic container, that meant i would have to go out to get a new trash can. I had already been making the rounds looking for trash cans and hampers for the nursery so i already knew what to get. ta daa!!
(the white one)
Simple Human makes this one. We already have a Simple human for the kitchen and like it alot.
it totally goes in the nursery and looks really good. Be careful when buying trashcans you have to give them a really good look to see if there are any dents and its even harder with the white ones. Two of the white ones had small dents. Luckilly one was still pristine.
I have started to realize that baby is only months away and I need to start ordering stuff now so that it gets here on time.
I ordered this today from Little Red Robin!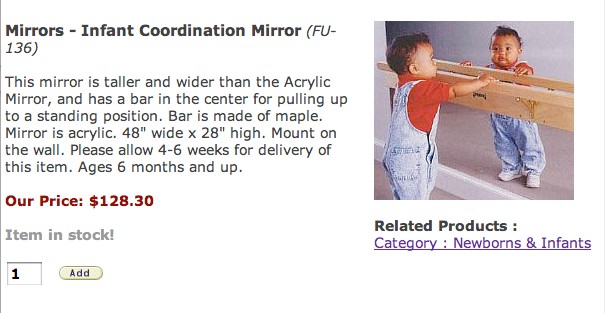 LRR is an awesome sight for montessori furniture and toys. the site also has a lot of articles about
montessori stuff. Ok, heres another thing. My freind Malita taught me the HTML trick where the links highlight so you can just click on them, but i lost the paper that she wrote on, or misplaced i should say so here it goes! copy paste https://www.littleredrobin.com/
So lets talk about the mirror. Montessori rules say that you have to have a miror in the room for baby to get a realistic sense of themselves. Montessori also says that a little balance beam is good for baby to try to pull themselves up on. this kills two birds!
So I also have to order the flor tile, i will do that tommorrow. here is my final plan with furniture placement too. Im gonna have a sheepskin throw in front of the bed, i didnt feel like photoshopping out the baby.,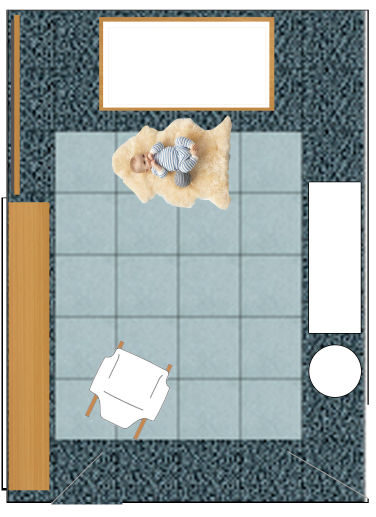 Oh that reminds me! I bought the babys domain name ___________ garcia.com
I suggest all parents do this as soon as possible if you have not already. P.S. The number of dashes is in no direct correlation to the number of letters in baby's first name. So this juicy tid bit will have everyone going to the internet to try their guesses.