day 24 TOYS
So im not writing much tonight. Bruce and I are getting up early to go watch the world cup at Fado Irish Pub at 7:30 in the morning, so i will be brief,
I ordered the flor tile, that shold be here in 10 days.
I wanted to talk about toys. Yesterday after I had come back from BabysRus with sheet sets and such for the floor bed, theresa told me that we already had sheets from the baby shower at her work.
I had totally forgotten about all that stuff. i went into the closet and started going through everything and sorting it. clothes, toys, books, etc. I started seperating everything that was going to have to go back to the store. That being the crazy toys mostly!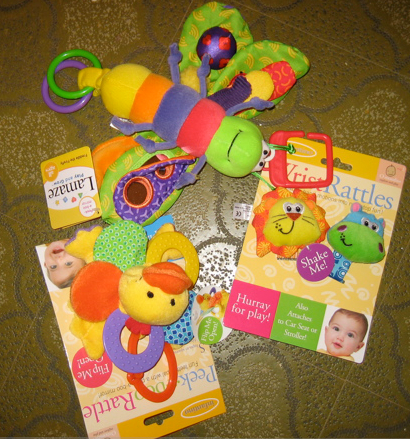 Heres the thing with toys. They cant "do" anything. they cant make noise or spin around or move in any way that is not visible to baby. Rattles is a big thing. they must have all the clattering parts on the outside, so that baby can see how it works. Now i spoke to this point a little earlier about how there cant be any cartoony images of animals and what not. so i am proud to say that i will be passing down my stuffed animals from when i was a kid to my own baby. hOW cool is that! I'm so glad that they make the montessori cut!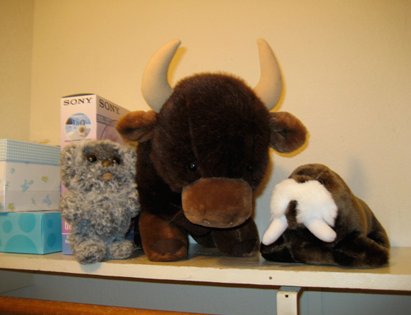 Now I know what your saying, "A baby Ewok...from star wars?" "are you filing this under abstract?"
No, I am not. this baby Ewok looks JUST LIKE the one in the movie, thereby being representational, just like Buffy Buffalo and Wally Walrus. Just LOOK at those guys. I have already written a chilldrens book to accompany these characters. They go on quite an adventure, kind of a "Babe"
meets "Homeward Bound" plot. my agent already has Queen Latifah to voice buffy and cliff clavin to be wally. but i digress.
Many of you have expressed the want to buy some toys for baby, and are confused cuzz of the whole montessori thing, just go to http://www.littleredrobin.com/ and pick something out!