Day 37 Ballgames and fLOR
Yesterday Theresa and I went to a round rock express game with My sister Gina, my Dad and Monique. It was a surprise that my sister did for dad for fathers day. We had a good time, Definitly want to go back sometime.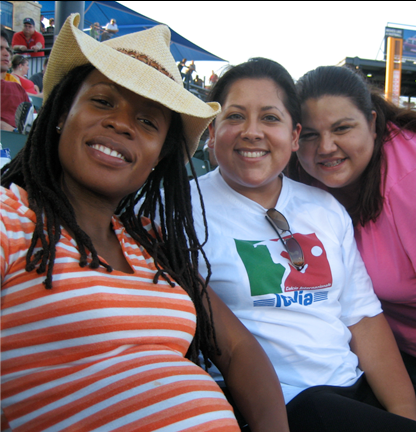 Thats Gina in the middle and our freind Monique on the right.
So the funniest thing was the media buy that this law firm did on the cupholders
you might not be able to read it, but it says something about, specializing in DWI.
hOW Fitting. But seriously, Like who's gonna go Hmmm, Im pretty drunk...Not sure if im gonna make it back to the house...better wright this lawyers # down case I get pulled over! This IS williamson County!
So today the
flor tILE
arrived! As soon as i got home I laid it down! it took about 2 hours. If you ever want to do flor tile talk to me first, i have learned quite a bit about it now that I have installed it myself.
here is a pic of the closet. see that little gap at the threshold? I got a clever little idea for that..keep you posted.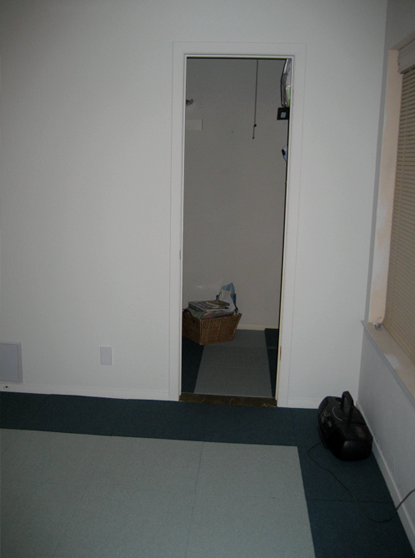 i did the design that i talked about earlier in the blog. i really like it, and theresa does too. I got to say though. I am not feeling the bird decals. I think they are too busy for the room, they arent the right scale for the room either. I am pretty pumped about the mural. i think its gonna look cool. now with the floor tiles laid im going to pick colors for the mural. im also thinking that the blue drawers might have to go on the changing table. The saturation is way to high and doesnt give a sense of calm that the flor tiles do....we shall see!
Right now we are sleeping in the nursery b/c the bedroom is still being painted. I hope to finish that up tomorrow night. stay tuned. Here is a pic of T journaling B4 bed