Day 6. The Pediatrician
Today we had our first visit to the pediatrician, Dr. Martha Macomber.
We chose her for a few different reasons.
1, she is close! about 3 minutes away.
2. easy parking! you can park right in front of the office, no big medical building,
no elevators.
3. the staff is nice
4. they have a sick kids waiting area as well as a healthy kids waiting area.
5. She has great bedside manner and always patiently anwers our questions.
6. She speaks spanish!
7. she takes our insurance. Ha! this should be number 1.
We have noticed that baby really likes car rides. He didnt make a squeek on the ride home from the hospital and didnt make a sound on the way to the ped. this morning. The car vibrations just put him at ease.
A few of our friends said that this was true for their infant as well. We are happy that akello is the same way!
I have noticed that my driving has changed pretty drastically. I am ashamed to say that it didnt change after T first learned she was preggers.
I am now mr. defensive driver. I stop, no I mean STOP at all stop signs and look both ways in excessive amounts. Im always on the lookout in all my mirrors for the crazy drivers and light runners. I concentrate on driving. Its all i think about when im behind the wheel.
and that goes for when im out driving by myself as well. I got stay healthy so that baby grows up with a daddy.
Well the Dr. had nothing but good news and put all of our concerns at ease.
he is gaining weight well and we will see her again in 2 weeks.
Another thing that has changed is Music. This also happened when I met theresa
As most of you know, im a huge Sade fan, and know alot of lyrics to her songs by heart. but its another thing to FEEL the lyrics. "lovers rock" used to be a cool song, but then I had theresa to think of when i heard it, and that made it more to me than just a song. And now..
The same goes for akello. Sade's "the sweetest gift" was always skipped and didnt make my "best of" mix on the ipod. Now its at the top of the heap!
Sade
- The Sweetest Gift Lyrics
Quietly while you were asleep
The moon and I were talking
I asked that she'd always keep you protected
She promised you her light
That you so gracefully carry
You bring your light and shine like morning
And then the wind pulls the clouds across the moon
Your light fills the darkest room
And I can see the miracle
That keeps us from falling
She promised all the sweetest gifts
That only the heaven's could bestow
You bring your light and shine like morning
And as you so gracefully give
Her light as long as you live
I'll always remember this moment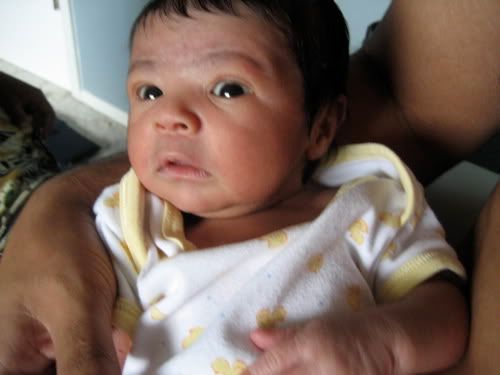 Today i sat down to rock Akello, oh i should say, the eames rocker is wayyyyy
more comfortable when you are holding a sack of potatos. (akello) having weight in your lap really forces you to sit in the rocker correctly and really provides great lower back support. wich you really need at this stage.
I was going to talk more. but akello just fell asleep, that means i have to go to sleep.