TUMMY TIME!
Oh my god,
these bluebell ice cream commercials that they keep re-using since 1983 of bucolic country homes is hilarious. its like...WTF?
Now the new geiko campaign started soft..with little richard and what not, but have really picked up steam. i just saw the peter graves version. hilarious.
Theresa and I are watching TV upstairs just waiting for akello to wake up.
waiting...waiting....
could be two minutes, could be twenty. Speaking of T.V. I brought one of our little 13 inch tv's down into the office. I had wanted to be able to watch the football game on sunday night but didn't want to be too far away in case theresa needed me.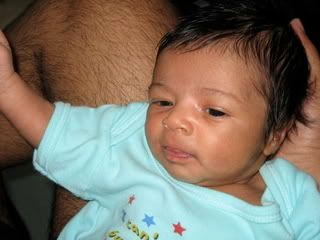 I shaved my goatee today, i would rub my face on akello's everytime i hugged or kissed him, and i just know he's thinking, "hey sandpaper face, easy on the merchandise!"
speaking of shaving, i stopped by HEB to pick up some essentials, like shaving cream. Its pretty funny what i consider to be essentials these days. I have really been cutting back on "the latte factor" as theresa calls it. No dwell magazines, no starbucks pick me ups.
Cutting costs is no leap for theresa, but its like stepping over the grand canyon for
me. We started cutting costs months ago in preparation for the single income, but we are in full swing now.
I got to say that its a lot easier once you have a kid back at home. On top of that, im downgrading my usual selctions. as in ... shaving cream. Now We're not destitute..so save the barbasol for my christmas stocking.
Out - $16
Anthony
Shaving Gel
In - $5 Gilette gel
Out -
Bumble and Bumble
Sumotech (highly recommended) $35.
In - Sebastian shaper puddy $8
the list goes on, but there are some things that will not change, such as my Horizon Organic half and half. which was back in stock finally. Ive been slumin off land'o lakes for the past month. You couldnt find it anywhere!
Now that the bills are paid, lets move on to baby,
This morning started us off with a trip to the pediatrician.
all is good and we had to get his heel pricked and some blood taken for some tests and such.
The doc told us to start giving him "tummy time" so as to develop his upper body and neck strength. This is usually put on hold until the umbilical cord falls off. So we are ready. Now some montessory die hards will not give their kide tummy time, the thinking being that you as a parent should introduce some type of incentive for them to flip themselves over or something. INCENTIVE TO A BABY. like what, is Theresa supposed to have her breast just out of reach?
I dunno. but im all about the tummy time!
oh,and we took our first walk around the neighborhood as a family today. Theresa, me and akello, going for a stroll. it was nice to walk around and get some fresh air.
I love the smell of ozone! (rain) and we just about got poured on but made it back to the house just in time.