So much better than yesterday
oh man., i am really starting to fade..must..keep...eyes..open!
So we spend a lot of time in the nursery, and i was getting tired of sitting on the floor, so i brought in one of the vintage eames shell chairs with the cats cradle base to the nursery. it looks so hot in there. straight out of the flor catalog yo! this pic above barely gives justice. its great to have the extra chair in there, now i spend more time in the room with T and the new stereo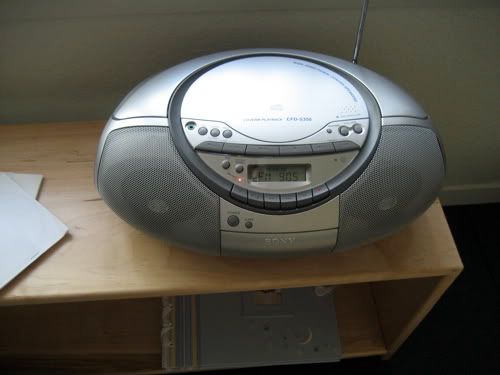 Tommorrow is my last day off, then I got to put some pants on and go back to work.
I seriously hardly wear anything while im here, just shorts. I only started wearing a shirt to shield the viewers at home from my hairy body for when the pics get taken.
Whats funny is that i always where workout attire. I feel like a mobster, but i dont wear windsuits or nothing, just tennis shorts (pockets) and an Under Armor T-shirt (breathability) i think the pediatrician and obstetrician think im a personal trainer or something....hey, dont laugh, i used to be one actually, (back when i was at my dating weight)
speaking of pediatricians. We called ours this morning about everything that had happened yesterday.
They wanted us to bring him in, and thought he might be congested in the ears. so at 11:20 am we went in. He has been doing awesome since last night. back on his regular schedule and all, and was doing good this morning. in fact he seemed to be trying to catch up on his sleep. I managed to get him in the car seat-to the doctors-into the waiting room-and finally into the observation room without so much as a peep.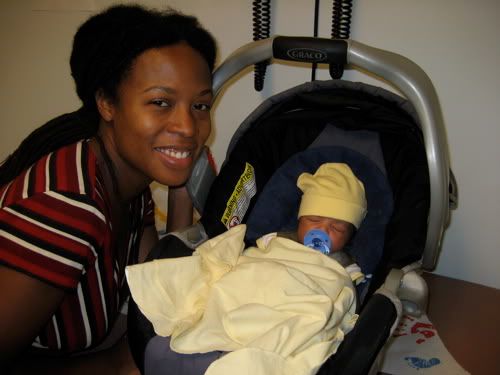 the nurse checked him out, said he was cool and went to weigh him. well the doctor came in while looking at akellos chart, and did a double take.
"what!" this cant be right! she looked around as if looking for a another chart floating in midair. and then procalimed,
"he weighs 8 lbs and 7 ounces!"
i was all, is that good? bad? do i need to go buy some husky diapers?
"normal babies gain an ounce a day at this stage" your baby has gained triple that."
"so...husky?"
It was all for good reason. We had thought that akello was ...
(in phill collins eddie murphy voice)
HUNGRY ALL THE TIME
HUNGRY ALL THE TIME
HUUUUNNNGRYYY ALLLLL THEEE TIIIIIMMMMMMME.
but as it turns out, Theresa had been the human pacifyer as any mother would.
yesterday however was off the charts, and the doc said that thats prolly why he wouldnt go to bed. imagine if you ate dinner every hour for 8 hours. youd be a little irritated.
so we need to use the pacifyer!!!
(in darth vader voice) "the suck reflex is strong with this one"
because of the feeding yesterday, Theresa was engorged today and hurting! we put a slow down on babys feeding and now hes back to normal schedule but theresas body is thinking that we have twins or something and the milk is a flowin. so we have been pumping to relieve the pressure.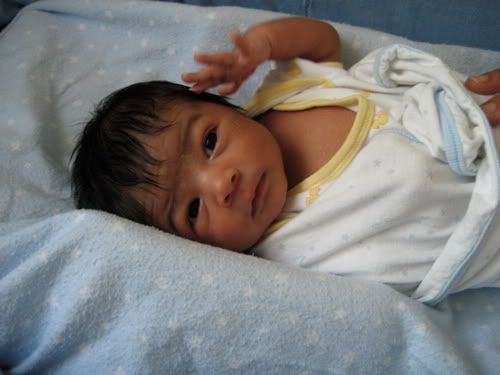 the little guys umbilical cord fell off today! now we can give him a bath and give him tummy time!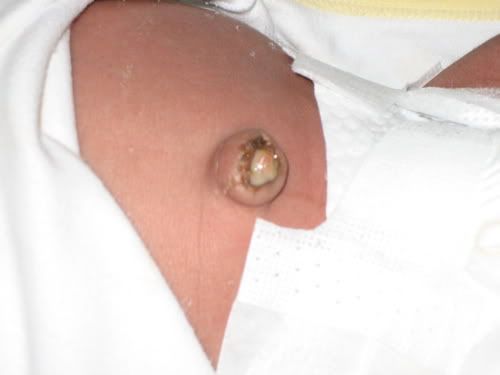 Today i finished the baby announcement mailout. it took some doing with the pic and all, but i finally got it where i want it. Now usually i print these kinda things at home, but i know better from when i printed our wedding annc, to take it to kinkos, so im going to do that tomorrow.
Oh tomorrow. tommorow is my last day off right. and it should be sunny, so i am going to try and stain as much of the fence as i can. and pray pray pray that it doesnt rain for 48 hours so that the stain can cure.
we shall see.
and now..