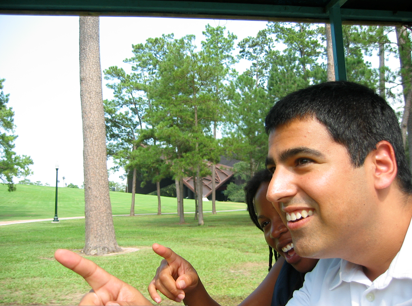 The Garcias see the Houston sights!
So I havn't been blogging lately, no need to call John Walsh, I have just been busy/tired.
After our trip to Houston (don't get mad Houston peeps we were only there for 2 days)
We came back and realized that we have entered the final month! What I have been referring to as "crunch time". Theresa and I have sat down and really nailed down the more important things that need to get done in the next two weeks, and obviously the mural is not a priority.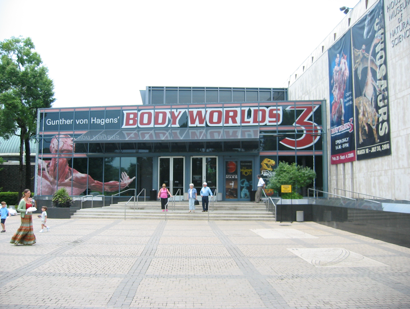 We had a great time in Houston. We visited the
BodyWorlds
exhibit at the
natural science museam
and took time to check out the dinosaurs that were there on permanent display. I love dinosaurs if you didn't know.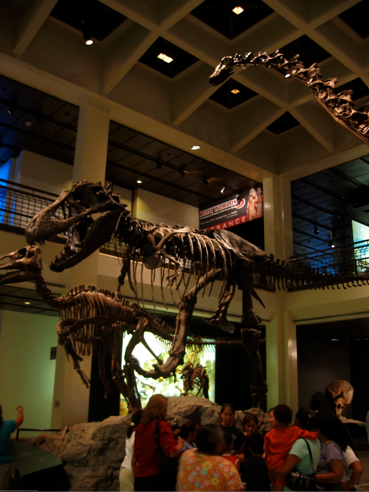 We also walked around the mall there in the design district and wound up riding this little train that goes around the park there in the museum district.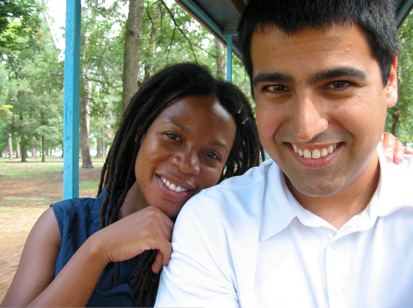 us on the train
We also took in the
Rothko Chapel
as well as the
Meinl Collection.
I would have to say that the Rothko Chapel was the highlight, being as that I'm a big Rothko fan, but everything was great, even dinner at IKEA on our way out of town.
So back in Austin we decided to do touristy things. We went on the
Austin Duck Tour
,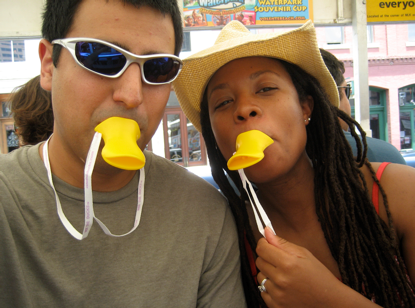 Rode the
Zilker Zephr
around Zilker Park
us on the zephr
and had bad food with a fabulous sunset view at the
Oasis
(their famous for this).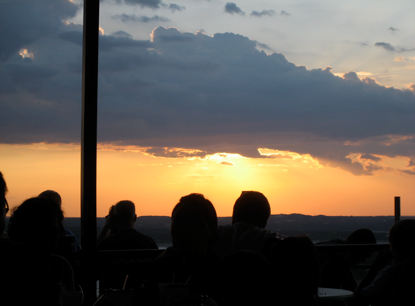 sunset at oasis
Seriously, talk about oversized proportions.
This is a nacho appetizer for ONE TO TWO people. We couldn't even finish 3/4s of it.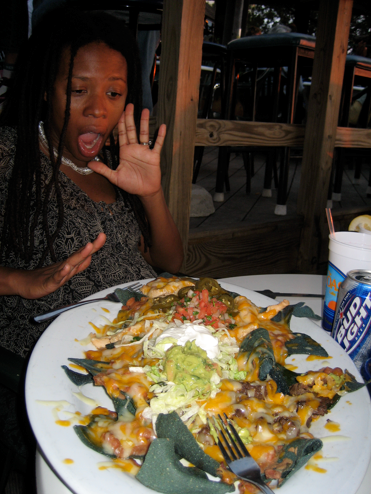 nachos of death!
Well then Theresa had a great baby shower (girls only) that she said was an awesome and fun time. T and I are very grateful to all the gifts that were given to us, And really appreciative of Charity putting it all together with some help from others im sure.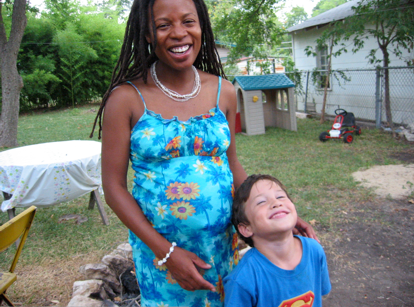 T and Micah (charity's son)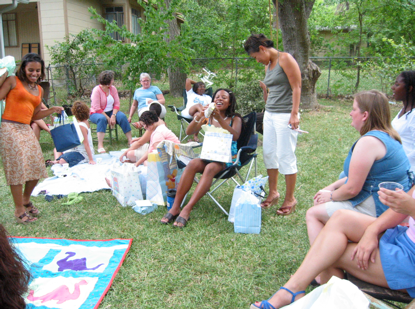 Not to be outdone, My good pals John and Tony took me out to dinner at
Uchi
, my fav place in austin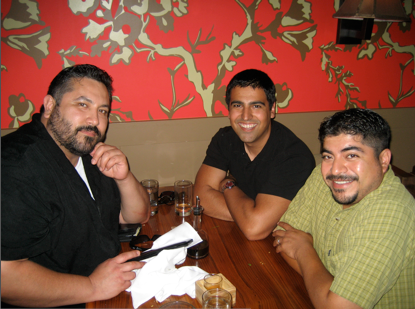 and then
Cool River
for cigar smoke and billiards. They also bestowed upon me a box of cigars to pass out for when baby G arrives. Look, the box is even blue.
Well, one of the things on the to-do list is to put up a concrete patio in the front of the house where some existing shrubs live. That, along with putting up a replacement fence on the right side of our house has been escalated to priority one.
Well I got as far as cutting down the shrubs, and then I thought that this might be best left to a professional, so I put down the home depot book and picked up the phone!
I am happy to say that my friend Crazy Aaron is available to do the work and work is to begin next week on Tuesday! Theresa and I are super excited.
So lets get back to decorating shall we.
The babycare
lambskin
throw came in! its sooo soft. We were also going through a nursery items checklist and came across the suggestion of a cd player. This meant I got to buy something electronic!
So I started looking around for a small, white, cd player/radio, that also had an alarm and a dock for an IPOD. It was a pretty tall order. I wanted it to be future ready, to get the most out of my money. But thinking about it now, ipods will be old news by the time he knows how to work it, or they'll at least change them so that it doesn't work with my player.
I did find this player sans alarm clock, but oh well, and only $100! Shush, don't tell Theresa.
So getting back to the tree Mural, I have had a couple of friends tell me about moj poj or something like that, I have been going back and forth on the whole thing. I saw these really cool wall application stickers at IKEA. They were bamboo stalks that you could put up. Wall stickers. I didn't get em though. Not a fan of the bamboo. Id prefer the tree.
Whats more important than the mural is the doors.!!
I took off the doors in the nursery and the bedroom when I painted and have yet to buy new ones. I want some white ones for the bedroom and some natural colored birch ones for the nursery. This will be the very next project that I will be undertaking with the help of my friend Tony. Hmm….i should go give him a call.
Here is the Sunday picture from last week.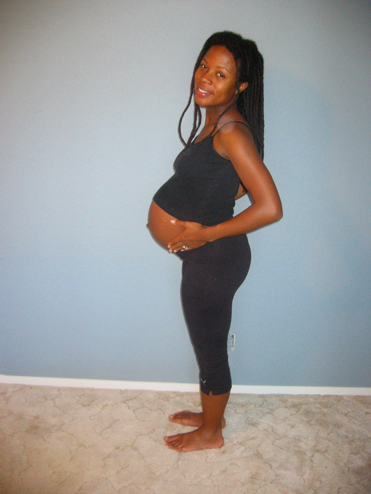 week 35!