things have been very busy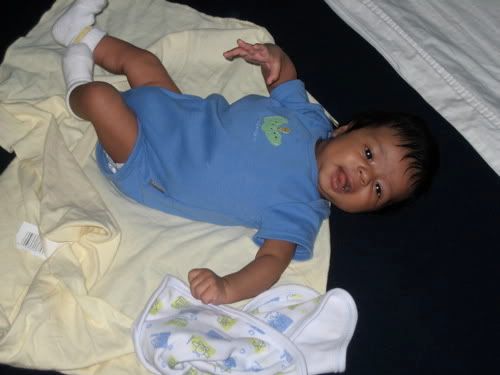 Theresa and Akello have been busy! In their baby play group last week they went to a class on "infant massage" i know. only in austin. whats next? baby pedicure and facial?
just kidding, im sure they do this everywhere. but i was surprised this existed.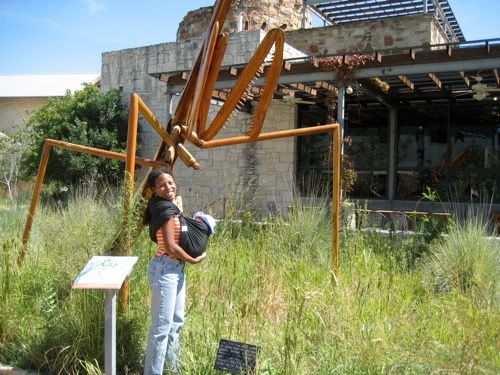 Theresa also found a new moms group on
meetup.com
and their first outing was to the
lady bird wildflower center
. They had a good time, nothing to do really but for moms to get fresh air and meet each other.
Theresa amazes me. She is such a great mother. Not because she knows everything or she can quiet akello with a whisper, no. But because she just works so hard at it, she is so selfless and just so committed, sleepless, paient, and centered. She amazes me everyday.
whew,
another long and tiring day. Tommorrow I go back to work, which i now consider to be my "days off" because work ain't nothing compared to the work that goes into soothing a crying baby or staining a cedar fence. I went through a whole 5 gallon bucket between yesterday and today. I am 2/3 of the way done at this point. Now i have to stain my neighbors side of the fence. and he has a dog. so that will take some coordination.
This staining is expensive. Each one of these buckets costs 119 dollars. and by the time im done i will have gone through 3. Thats $360! i could buy a cheaper brand yes, but that means ill be back out there sooner having to restain the thing. I prefer to go premium and not have to restain it again for 7 years. that way Akello should be old enough by then to do it. HA!
Now, in order to stain & waterproof a fence you need
1. stain
2. stain brush
3. something to hold the paint in
4. gloves of some sort
5. protective eyewear
i cannot emphasize protective eyewear enough, for painting, and yardwork. all it takes is one little drop of paint to get flicked up accidentaly in your eye, and your day is ruined.
Staining is very hard. you have to be sure that you have no drip stains, and painting on the sides of the picket is very difficult and time consuming. if you plan to do this on your next fence you should stain the pickets before you put them up.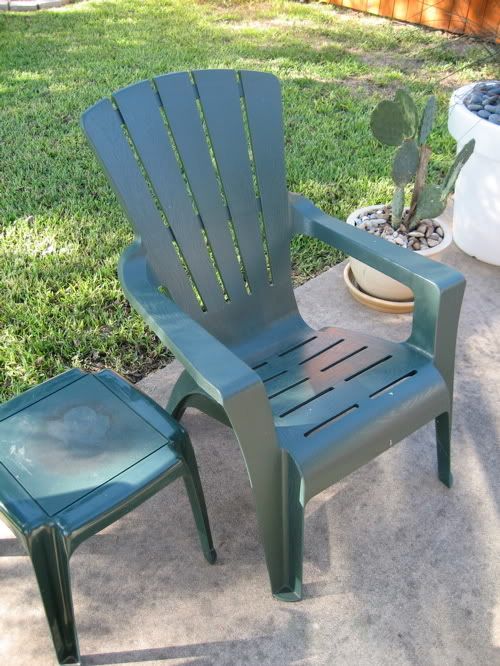 I am on the hunt for these Adirondack chairs. THey are nowhere to be found in austin!
The usual suspects have for some reason quit carrying this green color! i dont want white or taupe, i want green!
LOWES
HOME DEPOT
ZINGERS
HEB
SEARS
WALMART
TARGET
bedbathbeyond
LINENS AND THINGS
None of them have them. I will give a reward to anyone who can tell me where i can buy more of these. I cant even find them online. I want the $14 plastic version, just like this one above. i need 6 of them! Be on the lookout! any costco or sams club members out there? holler!
So i have a new idea circulating for the backyard. I want to put a big wooden table out there and some benches, all
San Jose Hotel
style. i want to
relocate the flowers in the white rock flower bed, give away the gravel on
craigs
list (the way i got it) and lay down some decomposed granite. THen i think i will put my grill on that...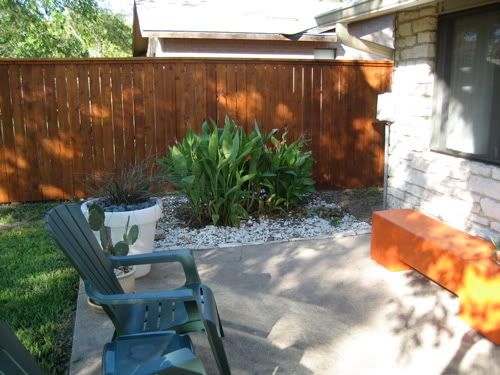 or...
should i relocate the flowers, give away the gravel, lay down the granite and put a couple of lounge chairs there and maybe a fire pit dug into the ground
and relocate the grill to where you see it now.. on the side of the house.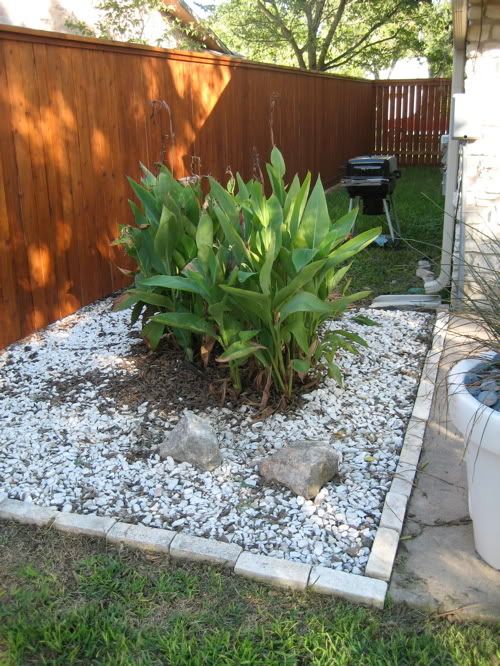 hmmm..let me know your thoughts.
now, getting back to the front. i want to paint the garage door. its a faded brown which isnt bad, but it clashes with the new color of the fence and its driving me crazy. I am thinking a deep dark blue, or green. Theresa is not feeling it though.
But she is open and has asked for a pre-visualized computer aided rendering. I have to do this with all my ideas for her. It helps me too though and sometimes i change my idea once i have done one. My readers thoughts are welcome.
NOw about the front patio... we cant afford it now, but soon we want to put up a two foot fence on that patio and throw some adirondack chairs out there. I was thinking of maybe using
GLu-Lam
benches instead, a la
Jo's Coffee
on 2nd style. i could use two of them to make the "L" and they could act as a barrier as well as extra seating. I would stain it the same color as the fence. possible? i dont know.
Ok, here is a stitched photo of our current condition. You see my point about the brown garage door.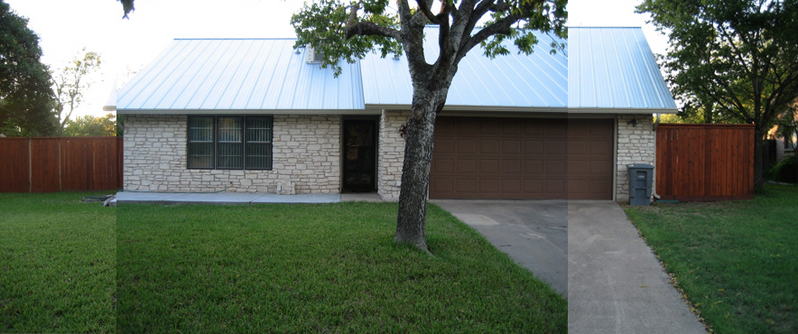 now lets add the fence, i have a feeling glue-lam is expensive so we will not render that right now
ok, now then lets start the voting shall we!
option one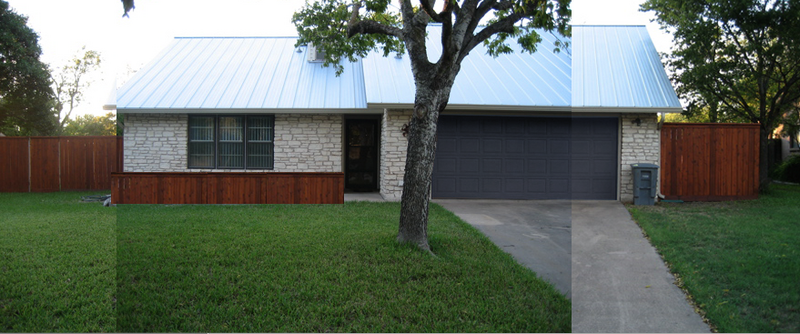 option 2
option 3
option 4
option 5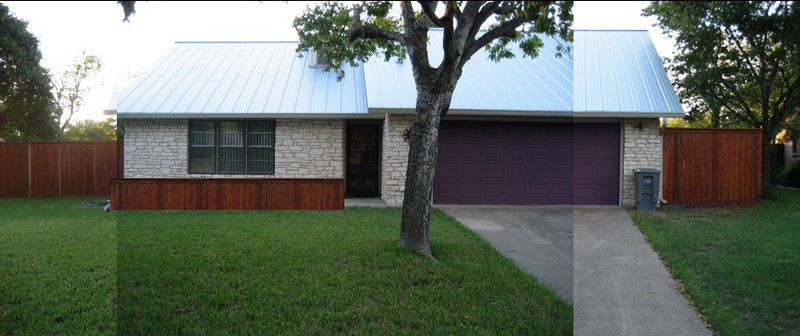 option 6