One month old
Akello is one month old! Theresa and I were both thinking that its feeling that we might be able to take him to church. We have decided that we are going to try in two weeks.
I'M not sure if i spoke to this already, but one thing that we realized is that Theresa and i were totally thrown off as soon as we got home from the hospital.
Theresa had spent all her time reading books on pregnancy and no time on reading books about once the child gets here. We didnt think about that. In hindsight i would have read a book that dealt with the first two weeks of life, so i would know what to expect and all.
Theresa got a good tip from a friend to lay a hand on akello as soon as she lays him down so as to still give him that human touch, without having to hold him. This way he doesnt wake up 2 seconds after putting him to sleep.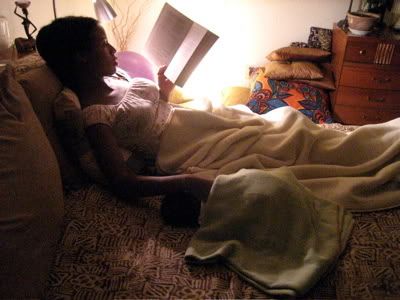 Things have been busy. lots of people coming to visit, bringing food, and my freind tony even came over to help me finish staining the fence. It was raining though so the staining is going to have to wait.
That's one thing thats nice, a little man help. it free's up time so that i can give theresa relief, company and time, thereby helping the baby. The fence is a time sensitive issue. It needs to be stained as soon as possible, but the weather conditions have to be right.
I got to say if your a man or woman and you are about to have a kid...start working out your shoulders! my shoulders are always tired, and while your at it..work out your middle and lower back. Holding akello as light as he is can be hard work.
I think the beer hat was not invited by a lazy drunk, but by a parent!
i always catch myself saying.."man, i wish i had a beer hat right now"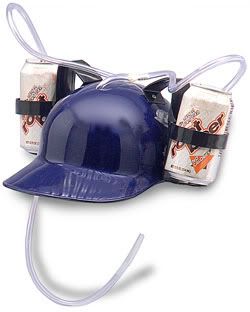 I always need another hand. I almost put the mouse for the computer on the floor, and was going to start using my foot to surf the net while i hold him. ummm yeah. fOAM! IN MY BRAIN!
i have added some new links on the right hand side. My freinds blogs, as well as some links to some design blogs. stay tuned for some montessori links, as well as some baby links and links to cool baby gear sites.
another thing. Im crazy for writing this blog everyday. I am going to be more disciplined about getting more rest, so i will probably be updating maybe 3 times a week or so, well, im just not going to worry about updating the blog if im tired. lets put it that way. I will try to at least give you a picture everyday. thats a little easier.
Visitors this week included Grandma and Grandpa.....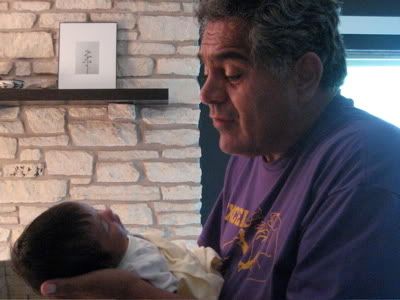 Tony and Natascha (sp) with little Marisol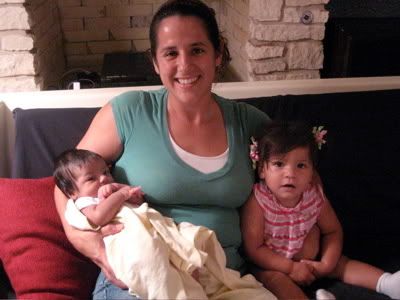 and Mi Kim dropped by too and brought dinner with her!
Oh, i got to say, I like greek food yeah, but i just now after living in Austin for 8 years have just tried
Athenian Grill
at 7th and colorodo. Go there. ITS AWESOME!!!
Also. I would like to recommend the new milkshakes at chick-fil-a. That is all
oh. i almost forgot..today on our walk around the neighborhood, (in awesome weather i might add) we spotted this cantelope growing in the most unlikely of places.